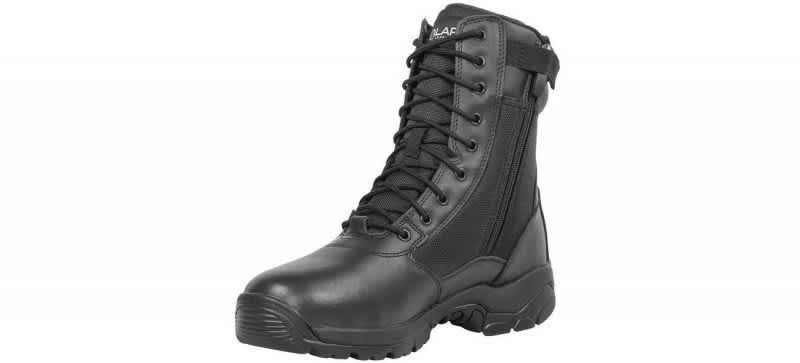 It was 2020, riots seemed to be breaking out everywhere, we were headed toward a contentious US presidential election, and LA Police Gear was having a sale. I decided I needed a good pair of butt-kicking boots, and ordered the LA Police Gear Core Side-Zip 8" Duty Boot. I haven't done much butt-kicking since, but I'm left with a pretty good pair of boots.
I have oddly shaped feet, so it's difficult for me to find a decent pair of anything. If I spend any amount of real money on shoes, I take hours trying them on. In fact, being sentenced to go shoe-shopping with me would violate both the Eighth Amendment and the Geneva Convention. But if I don't do my due diligence, I end up in boots that grow painful over a long hunt (like my Herman Survivors), or boots I slip and slide around in, like the insulated pair I bought at Tractor Supply. Both, by the way, are supposed to be the same size.
In order to spare my wife the pain of my shoe shopping, I tend to buy a lot of cheap shoes and hope for the best. At $35 on sale, the LA Police Gear Core Duty Boot fit that bill. They go for about $45 now, which is pretty good considering how much inflation we've seen since then. If you subscribe to their text messages, they regularly send out steep discount codes.
I didn't expect much out of this cheap pair of boots, but I was immediately impressed. I waffle between a size 10.5 and 11, but the 11 fit my foot perfectly. They're super comfortable thanks to removable Enduropro inserts, and the side-zipping ankle offers outstanding support.
The LA Police Gear Duty Boot doesn't get in the way on quick sprints. I'm not sure I'd want to run a marathon in them, but they're not overly heavy and then have a nice bounce to them, maybe thanks to the "EVA compressed rubber tooling." And that ankle support — helped by the side-zip design — comes in handy because I never feel like I'm going to roll my ankle.
Some boots of this type, like the combat boots I bought from a surplus store, are so heavy that it's all too easy to crush branches, toys, or small animals while plodding around like Frankenstein's monster. These duty boots are light enough that you can still manage to walk around quietly while your feet remain secure. Per LA Police Gear, the size 9 boot weighs 1.56 pounds.
I've worn these boots both in the hot and cold, and they're incredibly warm without being sweaty. That's apparently thanks to the "lightweight tongue mesh" that "lets air in to keep heat out." Despite that, they keep my feet toasty on cold winter mornings.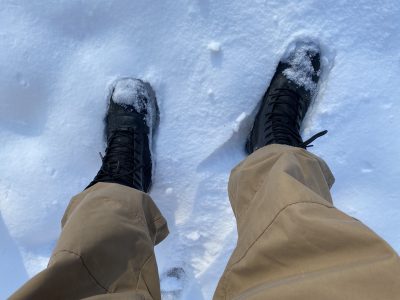 The bottom has excellent tread, so they're my go-to boots on wet mornings when the chickens have turned their mobile pen into a mud pit. They're also my go-to boots when we get a snowstorm and the kids are begging me to freeze my hind end off while they pelt me with snowballs. I have never once slipped in these boots, even while getting assaulted on our slippery sidewalk. LA Police Gear claims that they're "slip and oil resistant," and I believe that is true.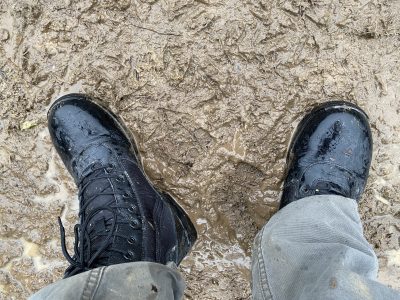 LA Police Gear also sells a waterproof duty boot for twice the price, but most sizes are currently sold out. I haven't tried wading through a creek in my duty boots, but they've been in their fair share of rain and snow and my feet have always stayed dry.
The Duty Boot is constructed of "action leather," which means that it's lower-grade leather coated in plastic. It's the same sort of leather used in white sneakers, but the surface of the Duty Boot is much smoother than a sneaker. LA Police Gear says the leather can be polished, which would be essential in any sort of duty boot. I haven't tried that myself, since I have no brass to impress, and my pair is lucky on the rare occasion I clean them.
They've held up well over the past two years, but I also don't wear them every day. Since I have thick, stubby hobbit feet, I often go barefoot in the warm months, and when it's just a little cold, I wear Crocs. Sometimes with wool socks. Yes, I'm that guy. What? They're comfortable. And easy to hose off.
But the LA Police Gear Duty Boots are almost as comfortable as Crocs, which is saying something. They just take longer to put on.
So if you're looking for a decent-quality combat-style boot that won't break the bank, you could do a lot worse than the LA Police Gear Core Side-Zip Duty Boot. These would be my go-to boots in a fight, and they'll work just fine for hunting or farm chores.