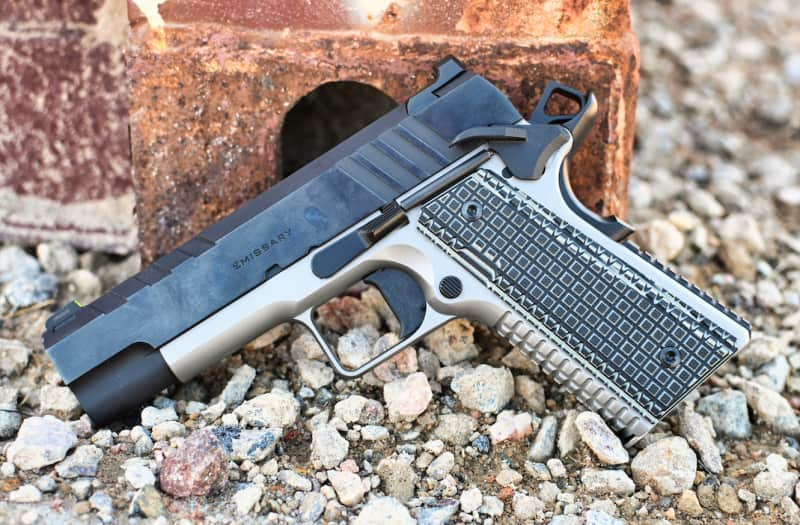 I know a few people who like to carry 1911s. In fact, there have been so many of them throughout the last 111 years that the platform continues to thrive. Some things are changing, however. One major trend is 1911 pistols trading in the hard thump of the .45 ACP for the explosive crack of the 9x19mm. Even in the realm of the outdoors, specific 9mm loadings have made it better suited for defense than it had been in the past. Springfield Armory recently introduced their Emissary line of 1911s. Until now, only full-sized versions were available, which isn't always great for carrying. Springfield is aiming for the sweet spot by releasing the new 9mm Emissary 4.25". This is our review.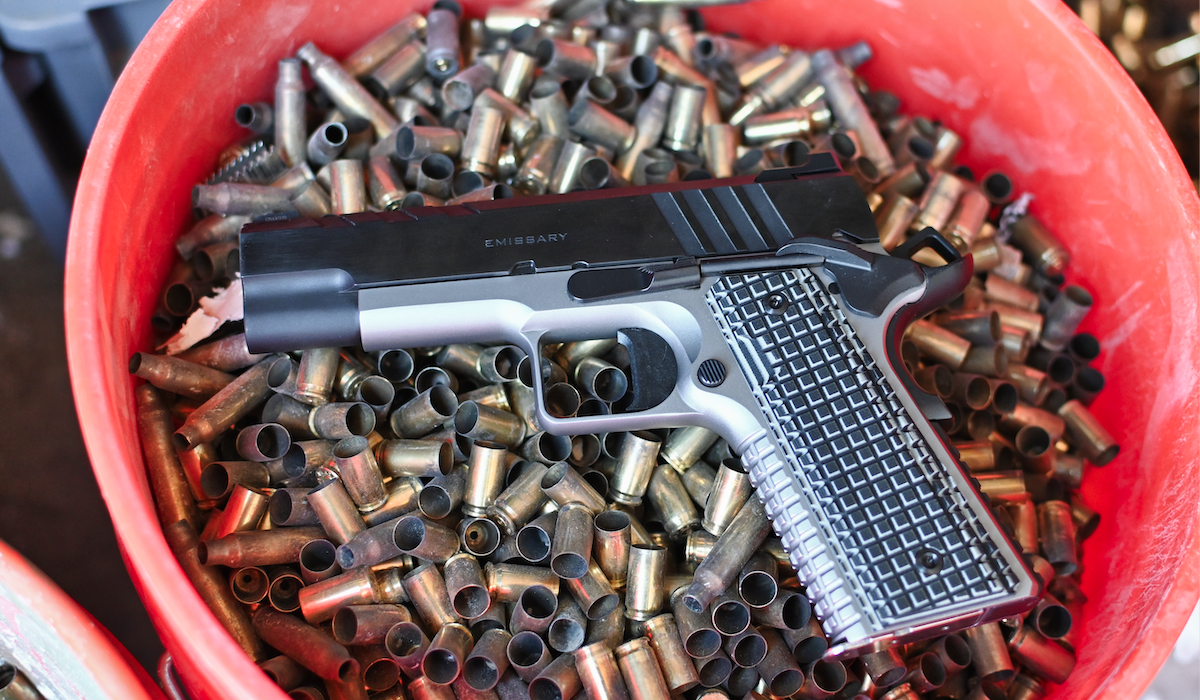 Springfield Armory 9mm Emissary 4.25": Specifications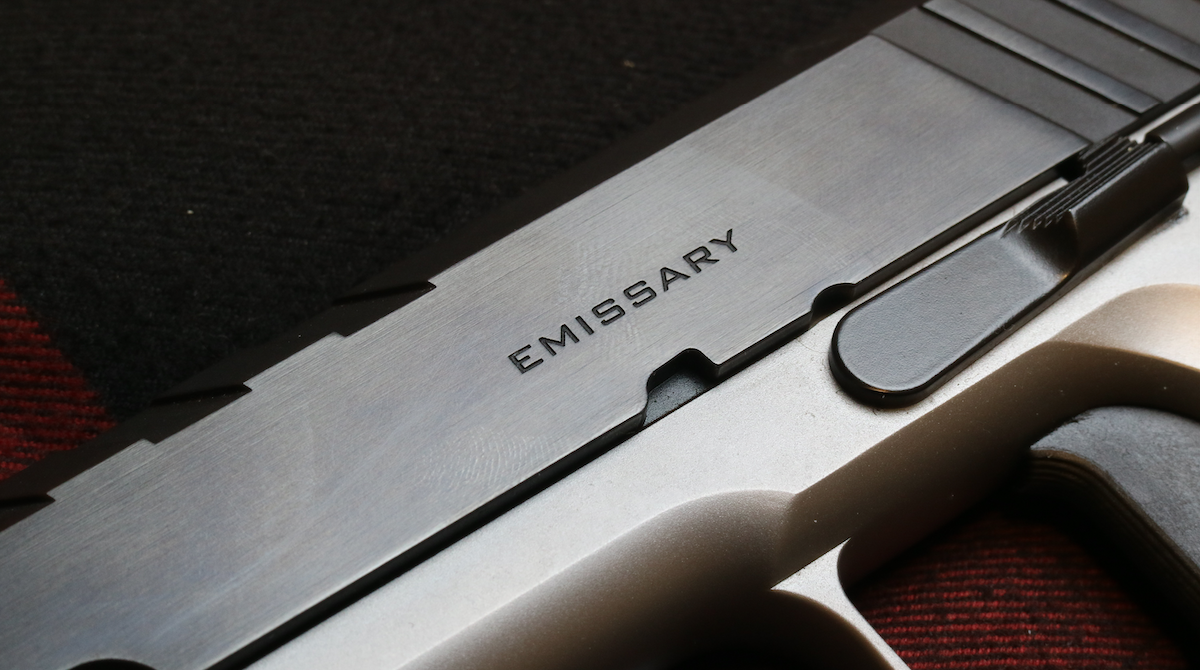 Caliber:

9x19mm

Capacity:

9+1

Overall length: 7.75"
Height: 5.25″
Weight: 40 oz.
Materials: Stainless steel, carbon steel
MSRP: $1,349
First Impressions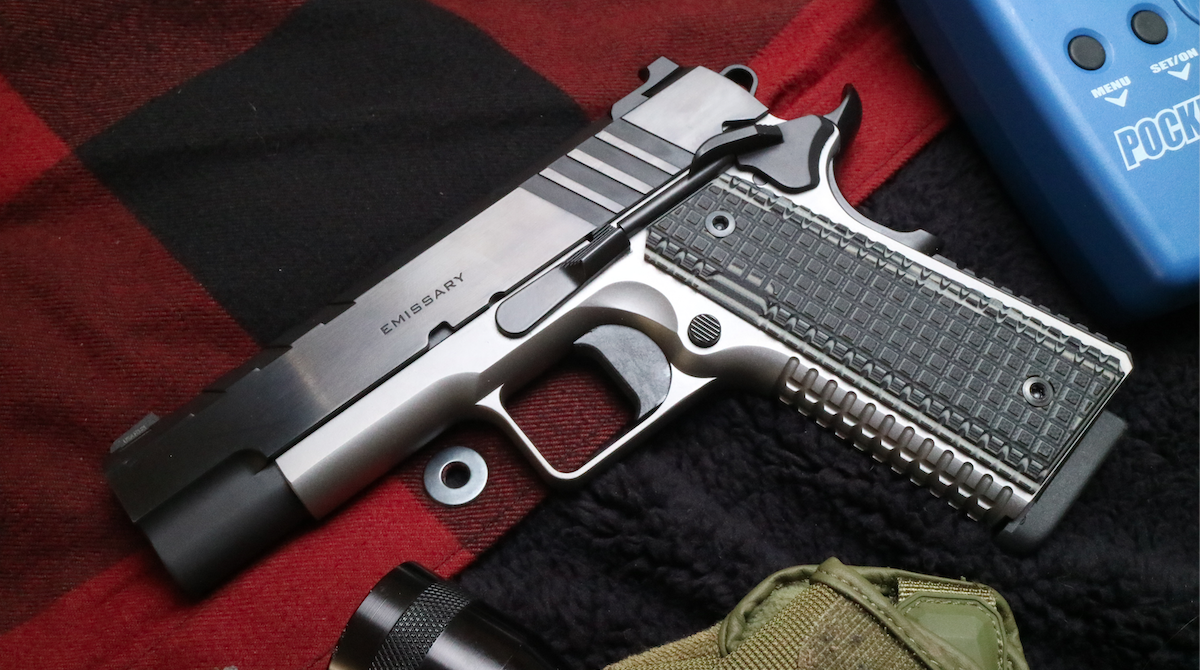 After bringing the 9mm Emissary 4.25″ home from Centennial Gun Club, I opened the familiar Springfield Armory box. Obviously, the first thing you're going to notice is the way it looks. As somebody who grew up in the era of plastic fantastics, I like my 1911s to maintain a classic aesthetic. For those who carry 1911s daily, you might be more inclined to appreciate the sleek, modern update to the way the gun looks. The grips stand out the most, and they're not purely visual. The texture is extremely grabby.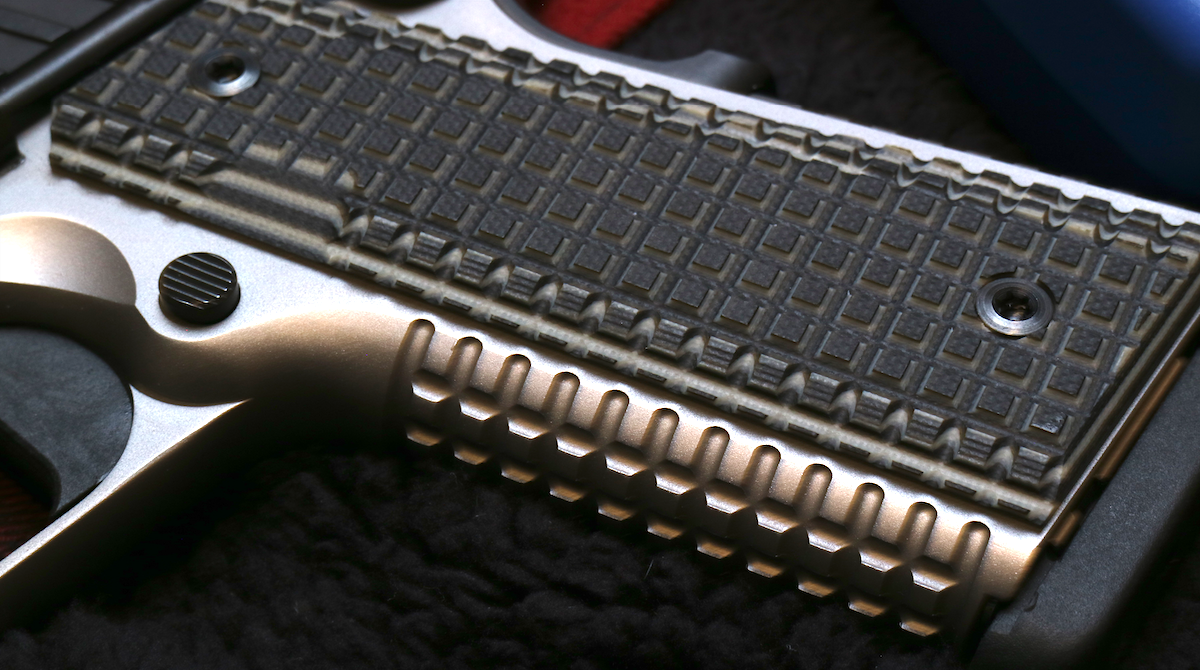 The slide wears a semi-mirrored polish that's darker than the stainless frame. It has front and rear serrations, kind of. If the front serrations are purely for looks, okay. However, they elected to have the serrations only along the 10 and two o'clock positions, and not on the sides. The assumption might have been made that people will manipulate the slide with the web between their index finger and thumb. Unfortunately, that's not what I do, so it feels like a wasted opportunity.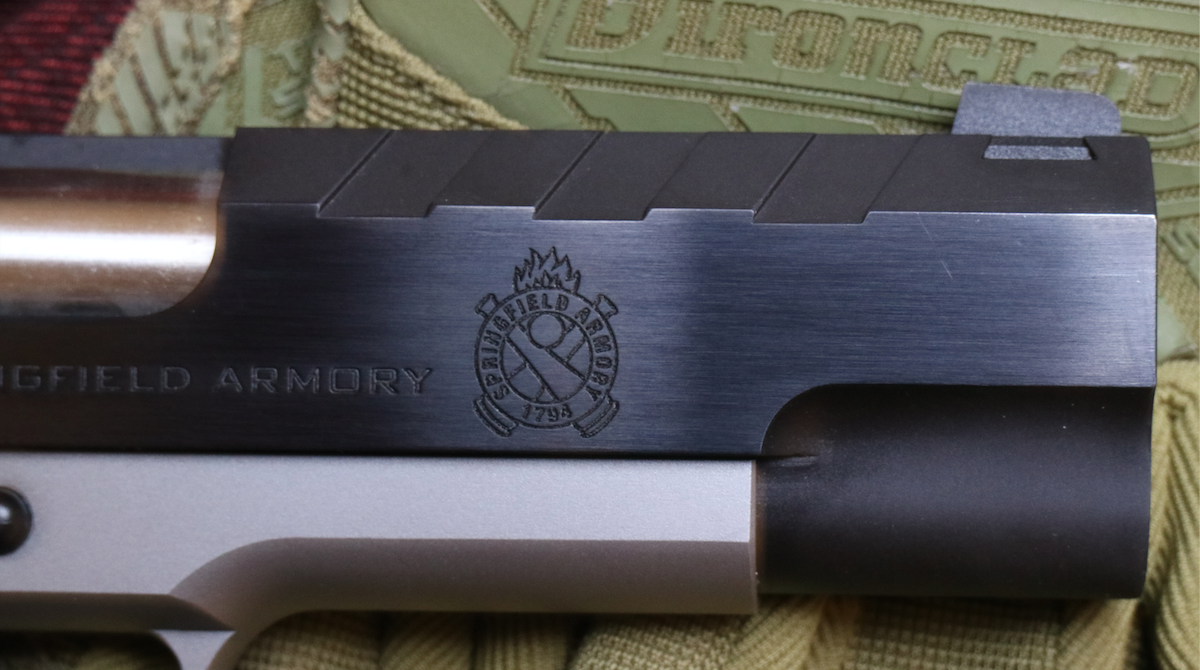 The trigger feels nice in dry firing. As someone who carries a Hellcat Pro daily, I like the U and dot sights that are included. It's like playing that game where you have to get the ball in the cup, but with the ringing of steel as a reward when you do it correctly.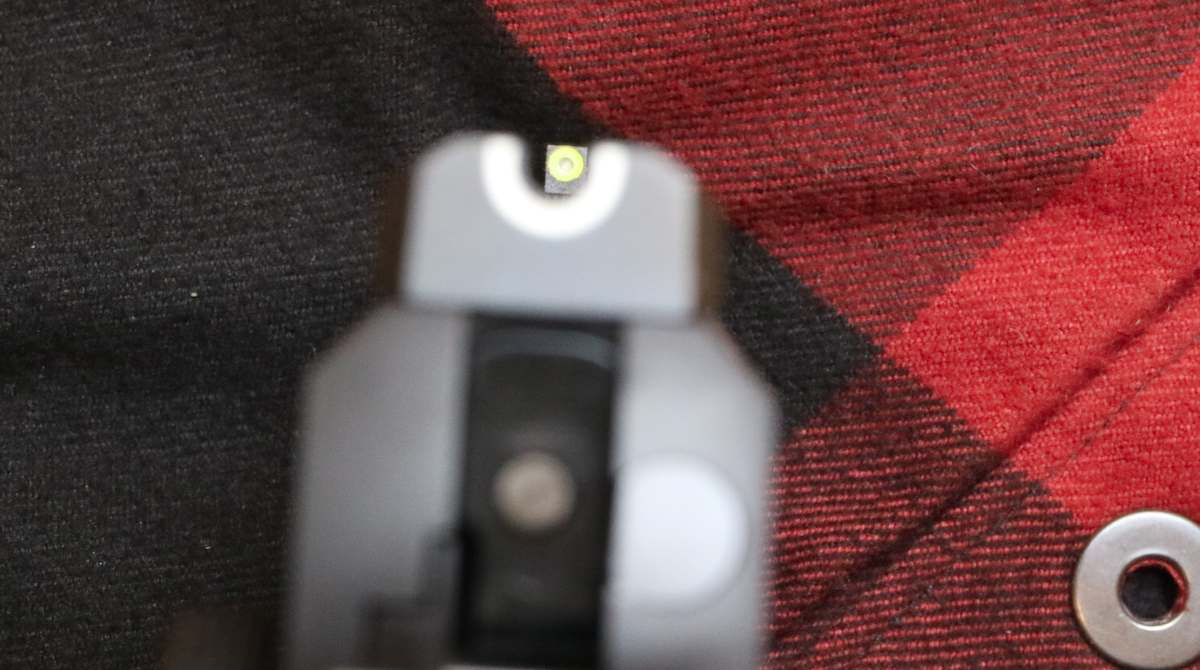 Steel Gun, Steel Cases, and Steel Targets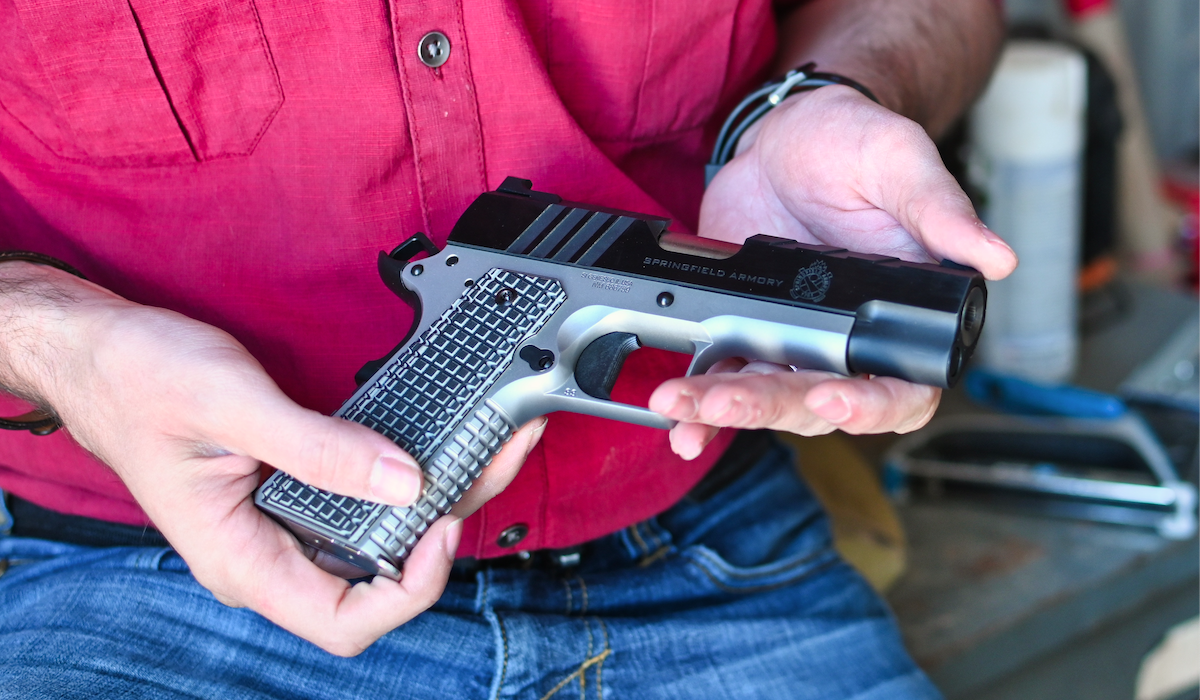 The first thing I did when I got to the range was accuracy testing. I was just using cheap, steel case ammo and wasn't expecting much. However, with very little effort, I produced this and similar groups from about 15 yards, standing. I forgot to get an exact measurement, but as you can see, it's more than passable.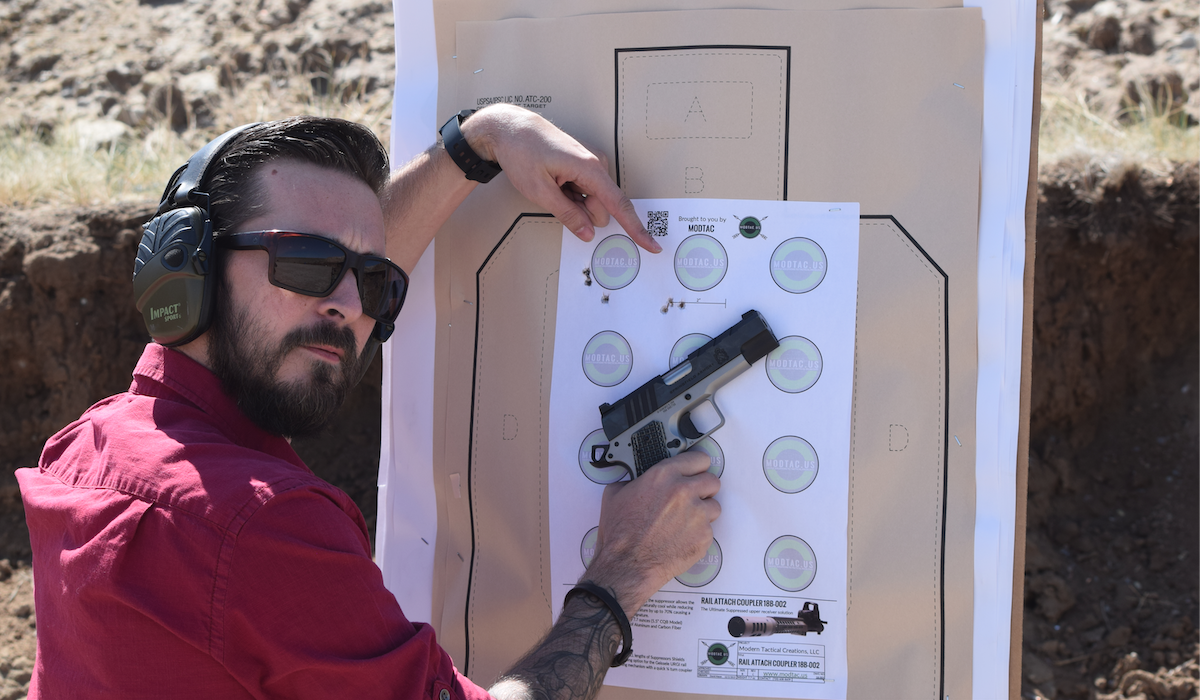 Next, I ran the gun on steel. First, I put rapid shots on an 8″ steel plate from seven yards. Thanks to the easy-to-use sights, trigger, and hefty weight of the gun, I was able to keep the steel ringing. Mag after mag, the rounds landed where I wanted them, even at a significant distance.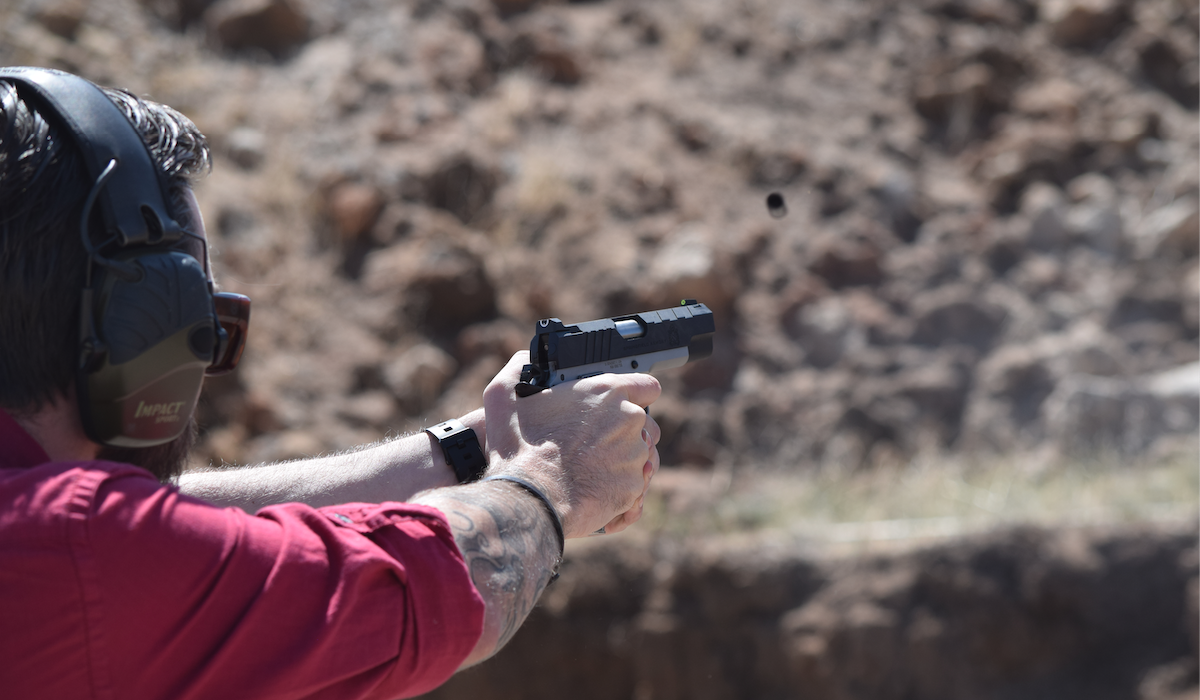 In fact, after shooting for speed, I was curious how far I could hit with the Emissary. I backed up to just under 54 yards. I lined up my sights with the man-sized steel target, disengaged the safety, pressed the trigger, heard a bang, and then…DING! When I took my time, shots past 50 yards were no problem at all.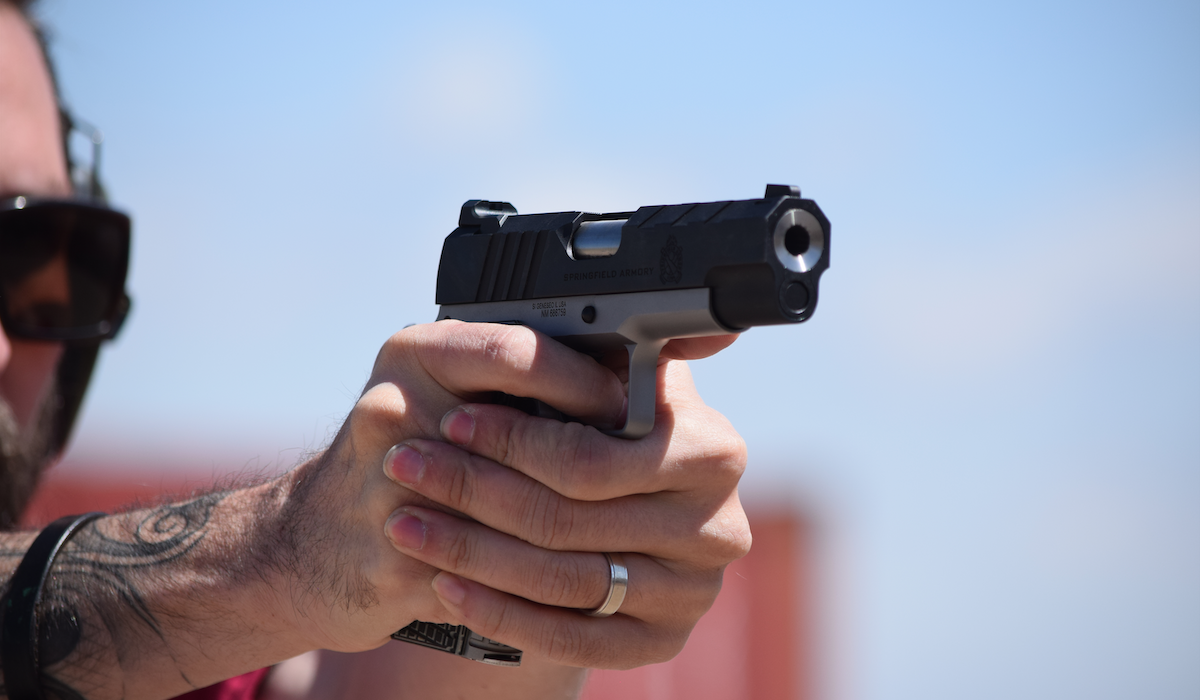 Overall, the shooting experience was very nice and results were repeatable. Bronson, my friend and photographer, shot well with the gun, too. We both have medium-ish sized hands and thought that the slim, grabby grip really helped with our shooting.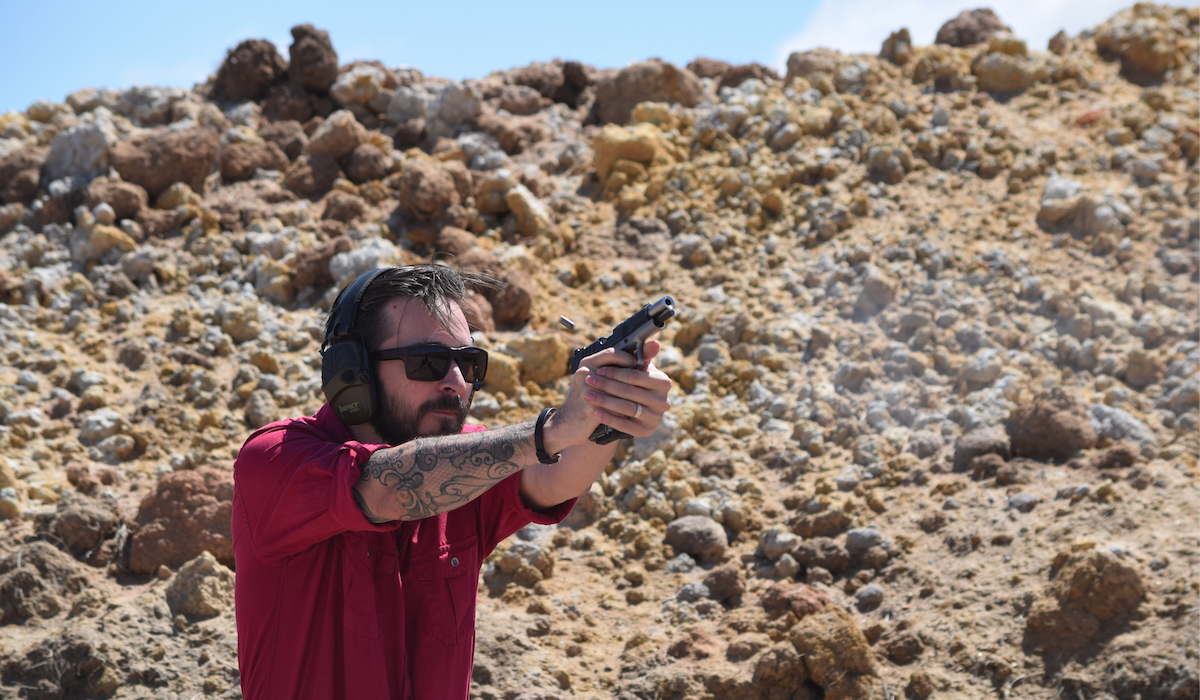 Dashing or Undesireable?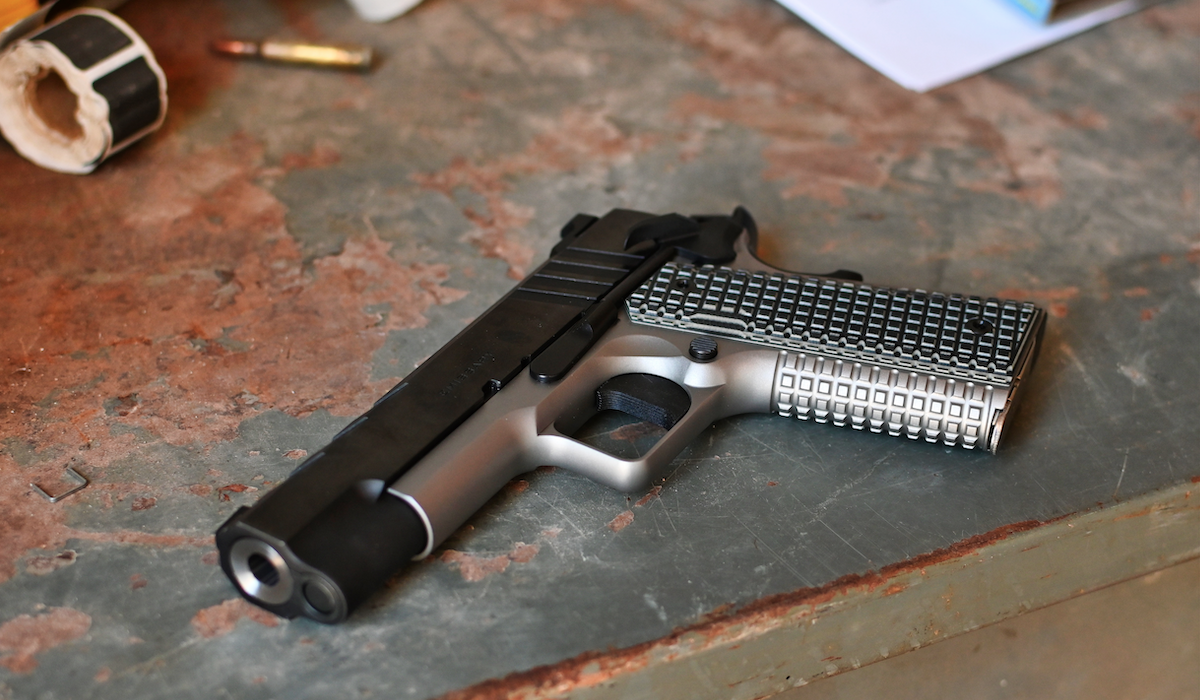 I think what I came away realizing is that the Emissary 4.25" isn't necessarily an update of the 1911. It's simply another version. It has a sleek, hard-lined exterior, but ultimately feels like a classic 1911. That's not a bad thing if that's what you want. Someone who primarily shoots and carries 1911 pistols would welcome the familiar feeling and edgy lines.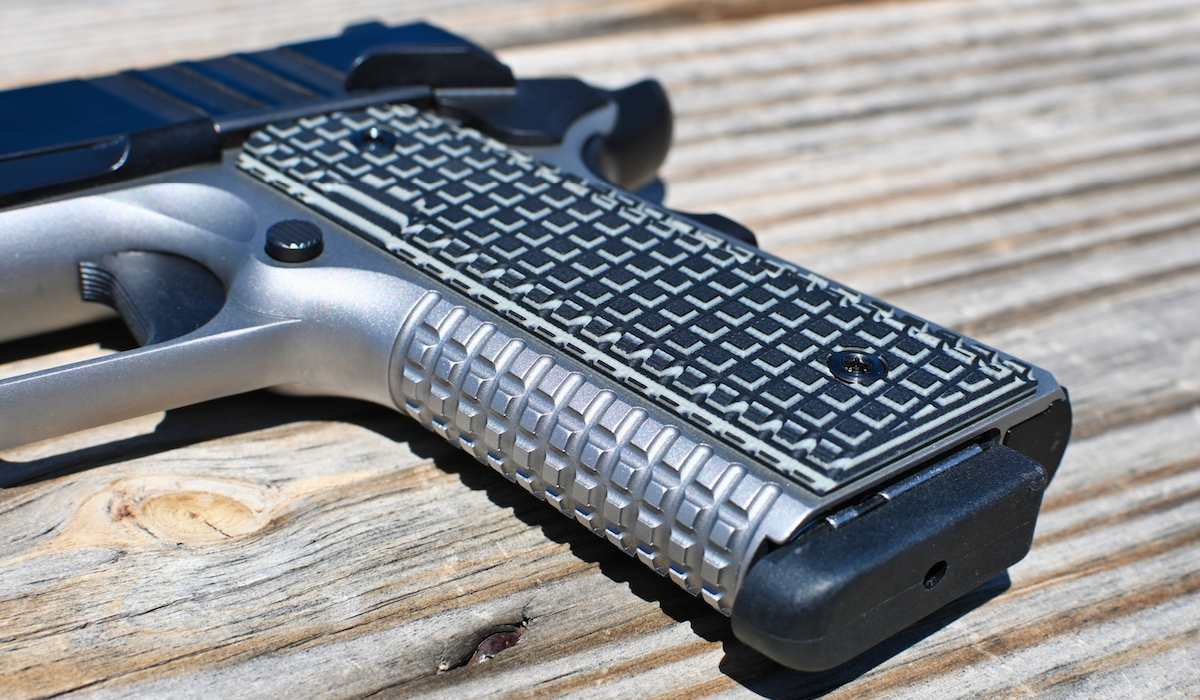 It has all of the pieces you've come to love about the platform. The sweet single-action trigger keeps your sights on target as you squeeze. The safety is positive, audible, and wide enough to use as a gas pedal, if that's how you like to use it. I think that my favorite part from a practical standpoint is the grip texture. Even when I first started playing with the gun and dry firing, it was clear that it was going to keep the gun in place while firing. Suspicions confirmed.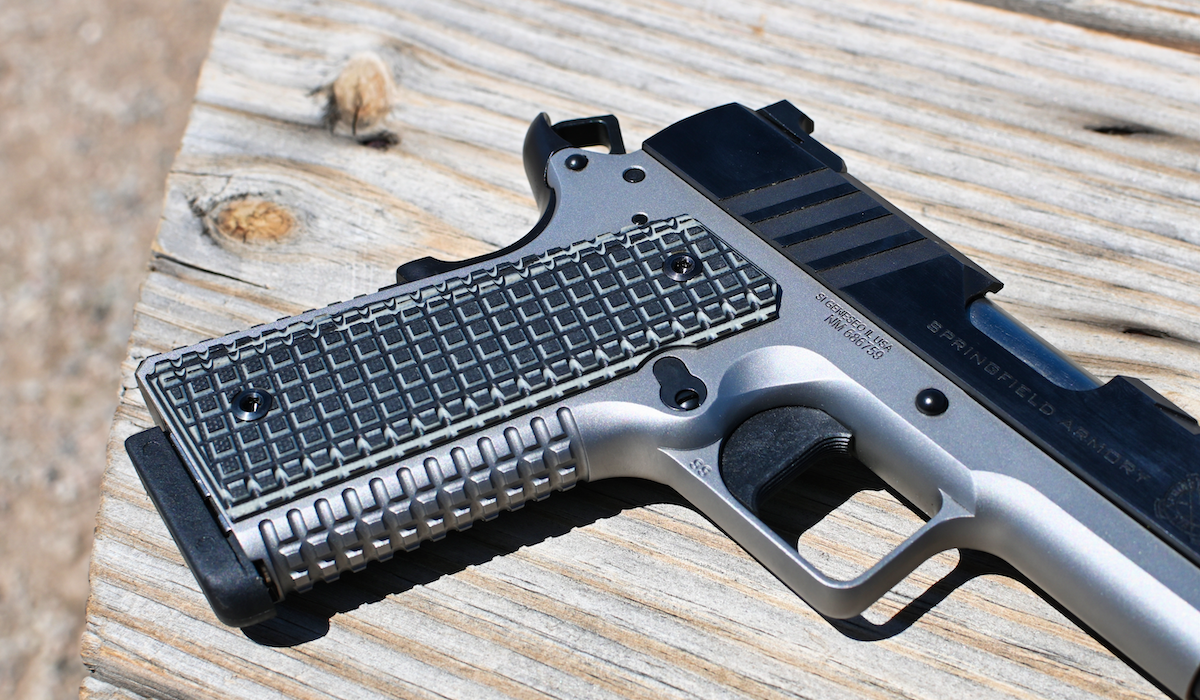 The exclusion of an ambidextrous safety, especially with an MSRP of almost $1,400, confuses me a bit. Lefties have found ways to adapt, but on a model that's intended for personal protection, I want the ability to use it in either hand. The front slide serrations also bothered me, probably more than they should have. Continuing them down the side of the slide would have made them much more usable. 
The Springfield Armory Emissary is cool. It's fun to shoot, as you can see above, and it was easy to keep on target thanks to the fast sights and aggressive grip texture. I have some issues with it, but generally, I really liked shooting it. If you're looking for your first 1911, you might want to look elsewhere. The new Garrison 9mm might be a better choice for that. However, if you already own a 1911, this could be a cool next step into the world of 1911s. If you'd like to check one out, you can find more information on the Springfield Armory website. Be sure to follow along on social media, as well. Springfield can be found on Facebook, Instagram, and YouTube. Stay safe! 
Outdoor photography by Bronson Eguchi.